Auf der Bühne schlafe ich mit 25.000 verschiedenen Menschen, dann gehe ich alleine nach Hause.
***
Manche Menschen werden nicht geboren, sie sind ein Naturereignis. Janis Joplin ist ein Komet, der am 19. Januar in Port Arthur, Texas eingeschlagen ist. Sie ist eine Rebellin der Rockmusik mit einer unverwechselbaren Stimme, die beste weiße Bluessängerin. Ever!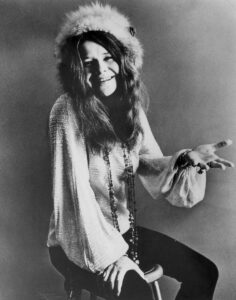 Weiterführend → 
Meine erste Schallplatte: "Heart of glass" von Blondie, vorgestellt von Martina Haimerl. Life circles at 33rpm!, postulierte Mischa Kuball. Wer sich hinter "Mister B" verbirgt, beschreibt Christine Kappe. Ergänzen ein Artikel zum Kassettenuntergrund. »Don Juan« von Dave Dee, Dozy, Beaky, Mick and Tich, vorgestellt von Joachim Feldmann. Eine Reise ins Glück von den Lilians, vorgestellt von Ju Sophie Kerschbaumer. "This charming man" von den Smiths vorgestellt von Haimo Hieronymus. Dschäääzz!!!, gehört von Eva Kurowski. Helge Schneider ist wahrscheinlich der bislang einzige Solo-Künstler, der gleich mit seiner ersten Platte den Titel Seine größten Erfolge gab. Begleitet wurde er bei den Aufnahmen durch Tonmeister Tom Täger im Tonstudio an der Ruhr. Meine ersten drei Platten, vorgestellt von Marcus Baltzer. Meine Musik, vorgestellt von Ulrich Bergmann. Eine Erinnerung an Mensch-Maschinen-Musik, das Gesamtkunstwerk Kraftwerk. In ihrem preisgekrönten Essay Referenzuniversum geht Sophie Reyer der Frage nach, wie das Schreiben durch das schreibende Analysieren gebrochen wird. Seit 1991 die Lieblingsband der Readktion: Mona Lisa Overdrive. Vertiefend zur Lektüre empfohlen, das Kollegengespräch :2= Verweisungszeichen zur Twitteratur von Sophie Reyer und A.J. Weigoni zum Projekt Wortspielhalle. Mit etwas Verspätung erschien Pia Lunds zweites Solo-Album Gift. Smile war für A.J. Weigoni ein Versprechen. Eine Generation später wurde es eingelöst. Selbstverständlich auf Vinyl. Und in Mono. Eine Wiederveröffentlichung der Neu!-Studioalben ist auf dem Label Grönland erschienen. in 1999 ging KUNO der Frage Label oder available? nach. Einen Remix zu basteln ist in der Popmusik gang und gebe. Stephan Flommersfeld hat das Selbe mit der "Letternmusik" gemacht. "Wenn es Videoclips gibt, muss auch die Literatur auf die veränderten medialen Verhältnisse reagieren.", postulierte A.J. Weigoni 1991 und erfand mit Frank Michaelis das Hörbuch. Erweiternd zum Medium der Compact Disc auch der Essay Press/Play.