Ununterbrochen tragische Ankunft.
Long silly grey station, Nirgendzeit.
Schreib: "Erschrocken die Fahrkarte 3
Junguniformierten hingehalten."
Noch kreischen die Bremsen
so schmerzhaft im Stand.
Denk Du: "Antithese Paris!"
Jemand wie ich schlich  
Zeile für Zeile entlang
offnen Kellern
between carcass stink and workable motor shows
entlang
abgeschnittener Sprache
uneingerichter Not
im lichten Anstieg zu
Pommes mit Bock punkt 12.
Befehl: Jetzt kürassier du,
ganz obenhin zu Land
Rates Ziegel Palast,
Philosophers ` stone, out of joint.
Geh, Du,
Bäuerchen von der Uecker.
Weiterführend →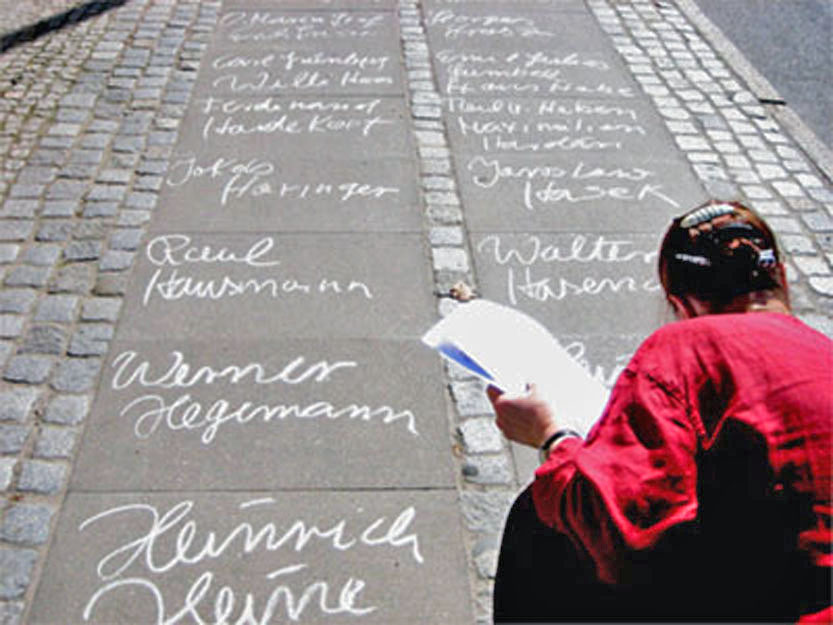 Lesen Sie auch das Kollegengespräch, das A.J. Weigoni mit Angelika Janz über den Zyklus fern, fern geführt hat. Vertiefend ein Porträt über ihre interdisziplinäre Tätigkeit, sowie einen Essay der Fragmenttexterin. Ebenfalls im KUNO-Archiv: Jan Kuhlbrodt mit einer Annäherung an die visuellen Arbeiten von Angelika Janz. Und nicht zuletzt, Michael Gratz über Angelika Janz' tEXt bILd