Die paradoxe Mischung aus brüskem Arschlochgehabe und einer darunterliegenden versteckten Sensibilität, die Weigoni auszeichnet, passt zu seinem rebellischen Gestus.
***
The last pop-songs, von A.J. Weigoni und Frank Michaelis (mit Marion Haberstroh und Andy Schulz) bei instant music, Düsseldorf 1989
Die Aufnahme ist in HiFi-Stereo-Qualität erhältlich über:  info@tonstudio-an-der-ruhr.de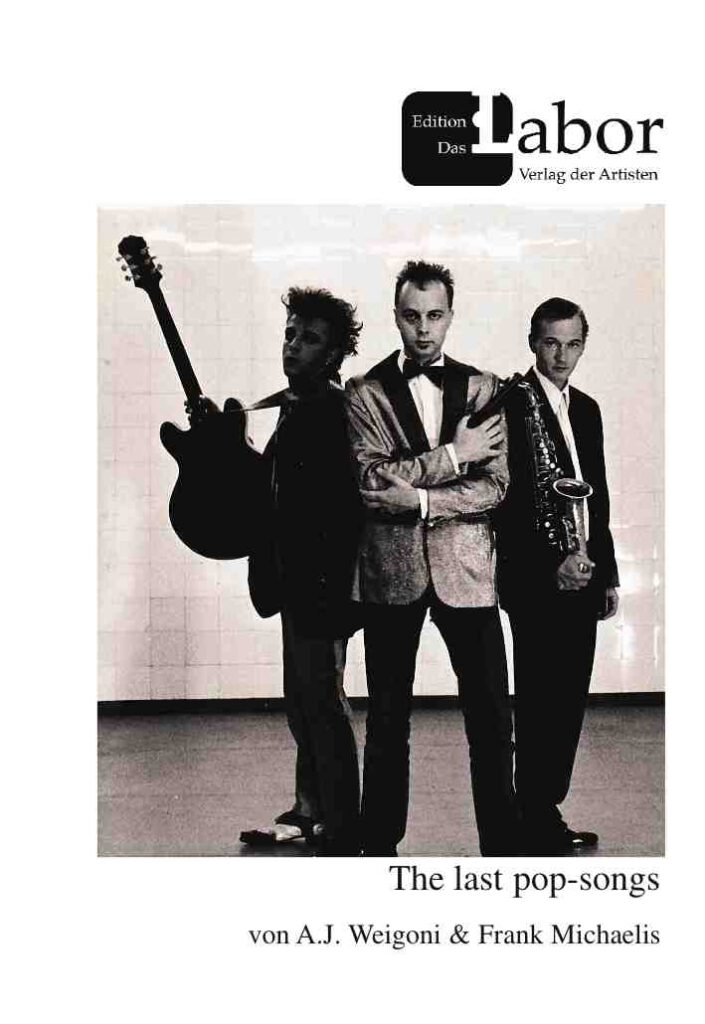 Wie das englische Wort lyrics (für Liedtext) verrät, basierten die antiken Vorläufer der Popmusik auf Texten, die zu den Klängen der Lyra vorgetragen wurden. Tonmeister Tom Täger hat das 1989 produzierte Tape the last pop-songs (vom DAT) digital remastered. Frank Michaelis und A.J. Weigoni haben die Energie und die Einfachheit von Pop genutzt, um komplexere Emotionen auszudrücken. Es ist beeindruckend, wie unbekümmert sie Stile, Genres und Ausdrucksmittel mischen. So entsteht eine intermediale Literatur, Poetry slams und Songtexte werden als künstlerische Artefakte wahrgenommen, die es mit 'klassischer' Literatur aufnehmen kann. Sie hören ein Denkspiel über Pop, das selbst Pop ist, weil es Pop als körperverwandelndes Medium versteht und Popgeschichte als Mediengeschichte. MetaPhon präsentiert in der Reihe Revisited einen Rückblick auf "The Best Of Jugendsünden".