Utopie
wir sind wie die Oktopusse riesig passen doch
durch ein milimeterkleines Loch
trag mich zusammen in mir
Plastikkind im DinoPlüschland
everything becomes alive
magisches Leben:
es pulsieren die Punkte es kotzen die Frösche
ihre Mägen aus und essen sie wieder so
übersetzt sich alles noch
in sich selbst denkt
das Kind in mir immer:
nennt man das Phantasie?
***
Queen of the Biomacht, ehrlich!, Gedichte von Sophie Reyer, Limbus Lyrik, 2018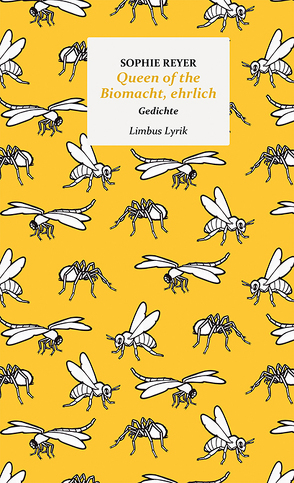 Hin- und hergerissen wird man beim Lesen dieser Gedichte, so gegensätzlich ist die Zeit, in der wir leben. Der Rhythmus wird vom Smartphone diktiert, Leid durch Antidepressiva oder andere Pillen hurtig betäubt. So viele Lebensbereiche sind reguliert und reglementiert – ausgeübte Bio-Macht im Foucault'schen Sinne –, wie soll man sich als einsam Denkende positionieren? Früher gab es Puzzles statt iPhone, aber andererseits: Die friedlich analog spielenden Kinder waren auch Insekten- und Geschwisterquäler. Kein Anlass für Nostalgie also, wo es in der heilen Welt der Kinderkassetten auch so etwas wie Tschernobyl gab. Sehnsucht, Macht und Schuld ziehen sich als rote Fäden durch Sophie Reyers Gedichte, die als Beobachterin und Teilnehmende nicht anklagt, Erinnerung und Zustandsbeschreibung in eindrucksvolle Bilder fasst, selbst ratlos ist, aber mutig genug, die großen Fragen, die sich nicht verändern, zu stellen
Weiterführend →
Ein Porträt von Sophie Reyer findet sich hier. In ihrem preisgekrönten Essay Referenzuniversum geht sie der Frage nach, wie das Schreiben durch das schreibende Analysieren gebrochen wird. Vertiefend zur Lektüre empfohlen, das Kollegengespräch :2= Verweisungszeichen zur Twitteratur von Sophie Reyer und A.J. Weigoni zum Projekt Wortspielhalle. Hören kann man einen Auszug aus der Wortspielhalle in der Reihe MetaPhon.