then, when I saw, I took the flow of a stream to reach the water´s lake, the sea and all the turmoils that might have had the watered power to spoil my earthly presence.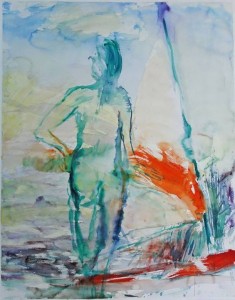 Die gemeinsame Ausstellung DER DIE SEE von Anita Leser & Andreas Roseneder vereint schon im Titel – mit Anspielung auf das aktuell grassierende gendering in der öffentlichen Sprache – nicht nur die verschiedenartigen Zugänge von Mann & Frau auf dem Gebiet der … Malerei & bildenden Kunst. DER mann & DIE frau auf reise an den gestaden DES/DER see/s. Ihre palette & pinsel bringen sie näher: DIE see, meer, ebbe & flut – DER see, gewaesser, schlamm & erde.
setzt man poliethylenobjekte mit acrylfarbschichten bemalt fuer laengere zeit offen der witterung aus, krakelieren sie mit der zeit, woelben sich auf, brechen in eckigen kanten zu eigenartigen profilen.
Die Orte der Entstehung der Werke des Malers & der Malerin werden damit bezeichnet: Die Gestade der See, des Meeres auf der Ionischen Insel Zakynthos & die Ufer des Burgenländischen Neusiedler Sees dienten Anita Leser & Andreas Roseneder diesen Sommer als Freiluftateliers. Die dabei entstandenen Werke sind Kemayrhaus, Stadtmuseum Rust zu sehen.
die wechselwirkung zwischen dem ort am wasser, dem licht & dem aquarellierenden ist eine ziemlich direkte & eindringliche. peinture en plein air ist werkstattfreiheit & fordert eine gewisse art von zwanglosigkeit & minimalistik, ist aber auch ausgesetztheit & setzt dabei bereitschaft für offenheit & spontaneität voraus – das wasser ändert durch seine glatt oder gebrochen spiegelnde oberfläche das licht, durch seine kräuselnde oder wellige bewegung die formen, durch seine säuselnden oder rauschenden stimmen den geist.
***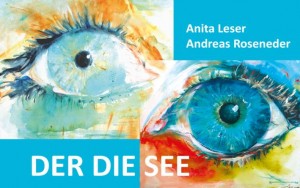 DER DIE SEE von Anita Leser & Andreas Roseneder bis 6. Oktober 2013 im Kemayrhaus, Stadtmuseum Rust.