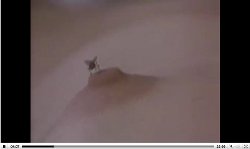 Zu Ehren von Yoko Onos 80. Geburtstag hat ubu.com für 24 Stunden ihren legendären Fluxus-Film Fly online gestellt, der eine Fliege auf einem Frauenkörper beobachtet. Ob der langen Kameraeinstellungen wirkt dieser Film auch über das neue Medium wie eine Meditation.
Ein wenig länger ist ihre Retrospektive in Frankfurt / M. zu sehen.
"Yoko Ono ist eine der einflussreichsten Künstlerinnen unserer Zeit. Zu ihrem 80. Geburtstag bereitet die SCHIRN eine umfassende Retrospektive vor, die eine charakteristische Auswahl der letzten 60 Jahre ihres Schaffens präsentiert und so die mediale Vielfalt im Werk der Künstlerin sowie die zentralen Themen ihres OEuvres beleuchtet. Bekannt wurde Yoko Ono mit ihren richtungsweisenden Arbeiten in den frühen 1960er-Jahren, die zuerst in New York und später in Japan gezeigt wurden, darunter die 1961 und 1962 ausgestellten "Instructions for Paintings", die Performance "Cut Piece " sowie das 1964 erschienene Buch "Grapefruit ", das diese Entwicklung festigte. Besondere Aufmerksamkeit legt die Retrospektive auf Yoko Onos Werke aus den 1960er- und 70er-Jahren, ihren Einfluss auf Fluxus-Bewegung, Konzept- und Performancekunst, Environments, Film, Musik, ihren Einsatz für den Frieden sowie ihr Engagement, diesen bahnbrechenden Ideen den Weg zu bereiten. Auch mehrere große Installationen und andere aktuelle Werke werden in der Ausstellung zu sehen sein.
Dr. Ingrid Pfeiffer (Kuratorin)
Die Kraft, die in ihren solchen Arbeiten liegt, hat Yoko Ono 1964 in folgende Worte gefasst:
Put one memory into one half of your head.
Shut it off and forget it.
Let the other half of the brain long for it.
***
HALF- A- WIND SHOW von Yoko Ono, noch zu sehen bis zum 12. MAI 2013 in der Schirn Kunsthalle, Frankfurt / M..