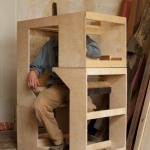 Mit seinem Beitrag "12 Ballads for Huguenot House" zur documenta 13 in Kassel hat der amerikanische Künstler und Kulturplaner Theaster Gates (*1973, lebt und arbeitet in Chicago) ein ungewöhnliches transatlantisches Austausch-Projekt zwischen zwei Gebäuden realisiert: aus dem 6901 South Dorchester-Haus in Chicago, ließ er Baumaterial, Möbel, Objekte wie auch Performances und Konzertaufnahmen — die sogenannten 12 Balladen — nach Kassel bringen und sie dort in das ebenfalls baufällige historische Hugenottenhaus integrieren.
Ein begnadeter Drahtseilakt zwischen Nachbarschaftshilfe und Bildhauerei
Für die documenta 13 wurde das Hugenottenhaus von Gates' Team und in Zusammenarbeit mit Handwerkern und Studenten ebenfalls in ein temporäres Veranstaltungslabor und zugleich Wohnhaus für das Team umgebaut, wobei Konzerte und Performances, die während der Eröffnungswoche aufgezeichnet wurden, später wiederum in Gebäuden in den USA, vielleicht sogar im zukünftigen 6901 Dorchester, "re"-präsentiert werden sollen. Theaster Gates selbst beschreibt diese soziale Plastik in einem Essay sehr treffend: "I imagine the project as a love song from one vacant building to another".
Das Team von Theaster Gates, darunter Nick Baker, Kevin Reisig, Norman Teague und Titus Wonsley, präsentiert das Projekt "12 Ballads for Huguenot House" auf Einladung von Prof. Mischa Kuball an der KHM.

Dienstag, 10. Juli, 17 Uhr, Aula
Filzengraben 2, 50676 Köln
Mehr Informationen: Hugenottenhaus / Kassel / Friedrichstraße / d13.documenta.de
Weiterführend →
Zuvor betrachtete Stefan Oehm für KUNO Kuballs Lichtinstallation res·o·nant. Lesen Sie im Rahmen der public preposition ein Gespräch zwischen Vanessa Joan Müller und Mischa Kuball über öffentliche Beziehungen. Gleichfalls empfehlenswert das Ateliergespräch von Prof. Dr. Matei Chihaia mit Mischa Kuball.
→ Für das Projekt Kollegengespräche hat A.J. Weigoni einen Austausch zwischen Schriftstellern angeregt. Auf KUNO ist diese Reihe wieder aufgelebt. Mit dem Künstler Mischa Kuball teilt der Romancier den Dauerlauf.