Insbesondere die Kürze, in der sie ihre Geschichten lose beschreibt, und der darin enthaltene Humor, der ihr durch die vertrackte Situation ihres Zuhauses sozusagen in die Wiege gelegt wurde, erinnern mich teilweise sogar an Elfriede Jelinek, von der ich aber gar nichts kenne, außer ein Foto.
Helge Schneider
Ähnlich wie bei »The Life and Opinions of Tristram Shandy, Gentleman« von Laurence Sterne, beginnt die Geschichte von Eva Kurowski vor der Geburt: "Es begann damit, daß mein Vater, der ein begeisterter Trompeter, Marxist und Gr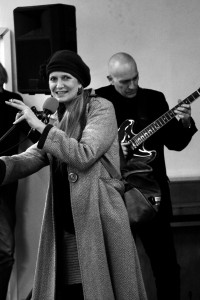 afiker war, einen Samenerguß hatte, und zwar in meiner Mutter."
Frei von der Leber weg berichtet die 'Disöse' Eva Kurowski in »Gott schmiert keine Stullen« über eine 'sozialistische Kindheit im Ruhrgebiet'. Die Autorin ist eine ironische Realistin, sie schreibt einen biographischen Text, der alle Nuancen der Welt– und Ich– Erfahrung aufnimmt und in Sprachklang umsetzt. Ihr Buch liest sich wie ein über Jahre gereiftes Initiationsbuch einer Autorin, die darin ihre Berufung zur Schrift schildert. Indem sie ihre Leser auf falsche Fährten lockt, führt sie sie auf die richtige Spur.
***

Gott schmiert keine Stullen von Eva Kurowski, erscheint bei Rowohlt Polaris
Hungertuchpreis an Eva Kurowski verliehen, zur Laudatio.