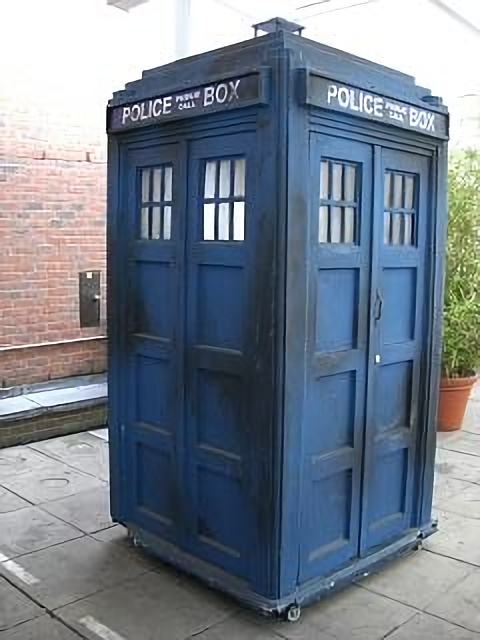 Doctor Who ist eine britischeScience-Fiction-Fernsehserie, die seit 1963 von der BBC produziert wird. Sie handelt von einem mysteriösen Zeitreisenden, der nur als "Der Doktor" bekannt ist. Er reist mit seinen Begleitern in der Zeit-Raum-Maschine TARDIS (Time And Relative Dimensions In Space), die als eine alte Polizei-Notrufzelle getarnt ist, und wird dabei in verschiedene Abenteuer verwickelt. Die Serie wurde von 1963 bis 1989 durchgehend ausgestrahlt; 1996 gab es einen Fernsehfilm; seit 2005 wird die Serie in einer Neuauflage mit neuen technischen Möglichkeiten fortgesetzt.
TARDIS ist die Abkürzung für "Time And Relative Dimension(s) In Space", wodurch klar wird, dass diese Maschinen sowohl in der Zeit als auch im Raum reisen können – im Laufe der Serie reiste der Doktor sogar in parallele Universen. In der deutschen Synchronisation wird TARDIS mitunter zum Backronym für "Trips aufgrund relativer Dimensionen im Sternenzelt".
Weiterführend →
In der Reihe Gossenhefte zeigt sich, was passiert, wenn sich literarischer Bodensatz und die Reflexionsmöglichkeiten von populärkulturellen Tugenden nahe genug kommen. Dem Begriff Trash haftet der Hauch der Verruchtheit und des Nonkonformismus an. In Musik, Kunst oder Film gilt Trash als Bewegung, die im Klandestinen stattfindet und an der nur ein exklusiver Kreis nonkonformistischer Aussenseiter partizipiert. Dieser angeschmutzte Realismus entzieht sich der Rezeption in einer öffentlichen Institution. Constanze Schmidt beschreibt den Weg von Proust zu Pulp. Es sei Enno Stahls fulminantes Zeitdokument Deutscher Trash ebenso eindrücklich empfohlen wie Heiner Links Vorwort zum Band Trash-Piloten.
PS Am 17. September 1966 wurde die Fernsehserie Raumpatrouille erstmal im Deutschen TV ausgestrahlt.