die Zeit zeitlos verbringen in den Herbstzeitlosen am Rande der Welt, am Rande eines schwarzen Lochs, wo Zeit und Raum den Platz tauschen, strange, strange fühlt sich das an, blitz und blank und kein Entkommen innen drinnen, weil die Außenwelt dann in der Zukunft nicht mehr existiert – ach je, und wie spät ist es jetzt da? Flieg, flieg Vögelchen Zeit winke ich im Zeitraffer und laufe der Zeit, trapp trapp, hinterher, du Fabeltier rufe ich, du Fabeltier warte auf mich! The golden hour of schock, schnell, schnell, treat first what kills first, baue ein Zeitnest, träume Traumland und die Zeit, oder die raum- und zeitlose Welt der Traumzeit, in Zeitlupe und auf Zehenspitzen, ahhh! 8 Uhr morgens und es schneit.
***
Eine Leseprobe aus: Je schneller man sich bewegt, desto langsamer vergeht die Zeit, Das Fröhliche Wohnzimmer, 2021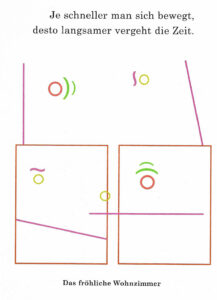 Weiterführend →
Lesen Sie auch das Porträt der Autorin. Ein Kollegengespräch mit Patricia Brooks finden Sie hier.