The Strain ist nichts für verweichlichte Twilighter.
Guillermo del Toro
Erzählt wird die Geschichte von Dr. Ephraim Goodweather, dem Leiter eines Einsatzteams des New Yorker Zentrums für Suchenbekämpfung. Er und seine Truppe werden gerufen um den Ausbruch eines mysteriösen Virus zu untersuchen. Ihre Ermittlungen führen sie auf die Spur von etwas Uraltem und Bösen!
Handelt es sich bei der Epidemie um die Saat von Blutsaugern?
Als sich die Seuche immer weiter ausbreitet, erklären ihr Goodweathers Team und ein bunt zusammengewürfelter Haufen New Yorker Bürger den Kampf. Es geht selbstverständlich um nichts weniger als das Schicksal der gesamten Menschheit. Unterstützt werden sie von Abraham Setrakian, dem wohl einzigen, der dieser Bedrohung schon einmal gegenüberstand. Heute ist er Pfandleiher in New York aber Setrakian hat sich sein ganzes Leben nur darauf vorbereitet, dem Übel noch einmal gegenüberzustehen, das ihn schon als Jugendlichen in einem polnischen Konzentrationslager heimgesucht hat.
Vereint in ihrem Kampf gegen die Seuche trennen Setrakian und Goodweather vor allem die Wahl ihrer Methoden sie zu bekämpfen. Die Erfahrung und Entschlossenheit eines alten Haudegens treffen auf die wissenschaftliche Herangehensweise eines ausgebildeten Spezialisten im Bereich der Seuchenbekämpfung.
Die Grundlage von The Strain ist ein Roman von Chuck Hogan und dem mexikanischen Regisseur und Autor Guillermo del Toro aus dem Jahr 2009. Diese Serie hat alle Voraussetzungen sich zu einem Trash-Meisterwerk zu entwickeln.
***
The Strain läuft auf ProSieben, Mittwoch, um 22:10 Uhr.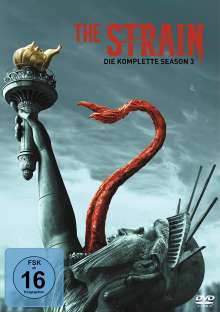 Weiterführend →
In der Reihe Gossenhefte zeigt sich, was passiert, wenn sich literarischer Bodensatz und die Reflexionsmöglichkeiten von populärkulturellen Tugenden nahe genug kommen. Dem Begriff Trash haftet der Hauch der Verruchtheit und des Nonkonformismus an. In Musik, Kunst oder Film gilt Trash als Bewegung, die im Klandestinen stattfindet und an der nur ein exklusiver Kreis nonkonformistischer Aussenseiter partizipiert. Dieser angeschmutzte Realismus entzieht sich der Rezeption in einer öffentlichen Institution. Constanze Schmidt beschreibt den Weg von Proust zu Pulp. Es sei Enno Stahls fulminantes Zeitdokument Deutscher Trash ebenso eindrücklich empfohlen wie Heiner Links Vorwort zum Band Trash-Piloten. Ebenso verwiesen sei auf Trash-Lyrik.