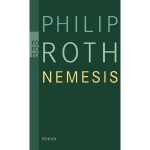 In einem Interview mit dem französischen Kulturmagazin Les Inrockuptibles erklärte Philip Roth bereits am 7. Oktober 2012 seinen Entschluß das Schreiben von Literatur völlig aufzugeben, es sei ihm in den vergangenen Jahren bewußt wurde, daß sein Leben endlich sei. Vor knapp fünf Jahren habe er begonnen, so Roth gegenüber Les Inrockuptibles, seine Lieblingsautoren neu zu lesen – Hemingway, Turgenjev, Conrad, Dostojevskij u.a. – sowie auch seine eigenen Werke. Worauf er zur Erkenntnis gekommen sei, dass die Begeisterung für die stets als schwer empfundene Arbeit des Schreibens verflogen sei. Und er wolle über Bücher auch nicht mehr sprechen: After that, I decided that I was done with fiction. Daraufhin habe er beschlossen, dass er einem Zitat des Boxers Joe Louis zustimme: Er hätte das Beste aus dem gemacht, was hatte.
Bei dem höggschdem Respekt vor dieser Entscheidung muß die Frage erlaubt sein, ob Autoren nicht wie jeder andere Mensch auch ein Recht auf Rente haben. Ob nicht einmal die Zeit kommt, da aus den immer wieder apostrophierten Altmeistern einfach nur alte Männer geworden sind. Ob kreative Visionen nicht auch ein Verfallsdatum haben. Wir dürfen uns das fragen, denn erstens ist dies eine ganz normale Frage, und zweitens beantwortet die Realität dessen, was die Altmeister den Verlagen anbieten die Frage selbst aufs deutlichste.
Alle Entwürfe erzählen die Geschichte vom Scheitern. Ich bringe einfach nicht mehr die Energie auf, mich dieser Kraft entgegenzustellen.
Seit Jahren hört man im Vorfeld der Verleihung des Literaturnobelpreises, Philip Roth sei einer der Favoriten. Die Jury sollte mutig sein, ihm diese Anerkennung ganz im Sinn H.C. Artmanns für ein ungeschriebenes Buch verleihen: Es gibt einen Satz, der unangreifbar ist, nämlich der, daß man Dichter sein kann, ohne auch irgendjemals ein Wort geschrieben oder gesprochen zu haben. Vorbedingung ist aber der mehr oder minder gefühlte Wunsch, poetisch handeln zu wollen.