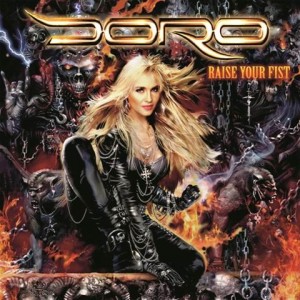 Jeder hat eine Schwäche, KUNOs hat einen Namen: Doro Pesch, Godmother of Hardrock. Wir mögen Heavy Metal, weil es die strukturkonservativste Richtung im Pop ist, es kommt so, wie man es erwartet, und man wird demzufolge nie enttäuscht. Diese Shouterin könnte sich mit dem Cover ihres neuen Albums als Comicfigur in Lack und Leder für jedes Fantasy-Rollenspiel bewerben. Seitdem wir sie mit Warlock im Jugendhaus an der Lacombletstraße in Düsseldorf erlebte, verfolgen wir ihre atemberaubende Karriere. Raise Your Fist ist wie jeder Vorgänger seit Burning the Witches das beste Doro-Werk aller Zeiten. Mit Lemmy Kilmister röchelt sie sich durch die Power-Ballade Love me forever. So, wie sich Doro diesmal durch das restliche Songmaterial stöhnt, ist sie die heißeste MILF des Rheinlands.
Mit Zeilen wie: Bin für Liebe / Und nicht für Hass / Bin für Frieden / Und keine Farce / Bin für alles / Was gut und echt / Ich bin für alles / Nur gegen Unrecht, zeigt sie sich diesmal auch politisch. Und außerdem engagiert sich Doro Pesch für People for the Ethical Treatment of Animals. Auf einem makabren Plakat gegen die Lederproduktion gibt sie eine gute Figur ab. Für dieses Poster könnten wir glatt zum Autogrammjäger werden.
***
Doro · Raise Your Fist 
(Nuclear Blast, erscheint heute)
PS Guter Hardrock ist wie ein vertontes Comic-Heft. Ich bitte zu entschuldigen, daß dieser Artikel auf KUNO nur Schülerzeitungsniveau erreicht.
Weiterführend →
KUNO hat ein Faible für Trash. Dem Begriff Trash haftet der Hauch der Verruchtheit und des Nonkonformismus an. In Musik, Kunst oder Film gilt Trash als Bewegung, die im Klandestinen stattfindet und an der nur ein exklusiver Kreis nonkonformistischer Aussenseiter partizipiert. Dieser angeschmutzte Realismus entzieht sich der Rezeption in einer öffentlichen Institution. In der Reihe Gossenhefte zeigt sich, was passiert, wenn sich literarischer Bodensatz und die Reflexionsmöglichkeiten von populärkulturellen Tugenden nahe genug kommen. Der Essay Perlen des Trash stellt diese Reihe ausführlich vor. Daher sei sei Enno Stahls fulminantes Zeitdokument Deutscher Trash ebenso eindrücklich empfohlen wie Heiner Links Vorwort zum Band Trash-Piloten. Ebenso verwiesen sei auf Trash-Lyrik.