Insgesamt ein eher wissenschaftliches, aber trotzdem nicht trockenes Buch – wer sich für Uni oder sonstwie mit der Materie beschäftigen muß/will, kommt hieran nicht vorbei.
Ox
Wissenschaftliche Arbeiten (Dissertationen, Magister- und Diplomarbeiten) zum Thema Fanzines aus verschiedenen Fachbereichen.
Im Anhang befindet sich eine Adressensammlung von Fanzines aus vielen verschiedenen Jugendkulturen.
• Jörg Nicolaus: Fanzines – Geschichte, Bedeutung und Perspektiven
• Elke Zobl: »To do a magazine is one of our ways – to get what we want!« – Feministische Comic- und Artcore-(Maga-)Zines
• Andreas Reiffer: Social Beat Fanzines
• Jannis K. Androutsopoulos: Die Plattenkritik: eine empirische Textsortenanalyse
• FANDOM EXPLORER – Fanzine-Index '99
– Fanzine Research. Archive und Sammlungen
– Index '99
***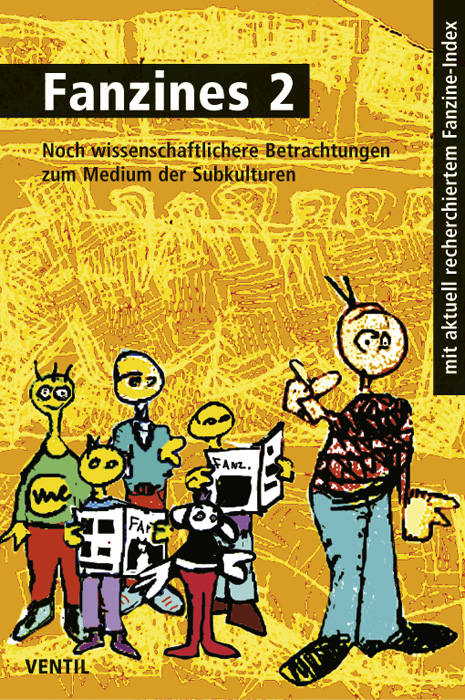 Weiterfühend →
Ein Kollegengespräch von A.J. Weigoni mit Jens Neumann über Fanzines. Einen Essay zur Reihe Kollegengespräche finden Sie hier. KUNO mit einem weiteren Hinweis auf das legendäre Ulcus Molle-Info, das 1990 eingestellt wurde.
Eine Theorie des Sozialen lautet, es gebe in der Politik keine Lücken. Immer wo sich eine auftue, werde sie sofort von anderen Akteuren besetzt. Mit Kersten Flenter und Michael Schönauer gehörte Tom de Toys zum Dreigestirn des deutschen Poetry Slam. Einen Nachruf von Theo Breuer auf den Urvater des Social-Beat finden Sie hier – Sowie selbstverständlich his Masters voice. Und Dr. Stahls kaltgenaue Analyse. – Die KUNO-Redaktion bat A.J. Weigoni um einen Text mit Bezug auf die Mainzer Minpressenmesse (MMPM) und er kramte eine Realsatire aus dem Jahr 1993 heraus, die er für den Mainzer Verleger Jens Neumann geschrieben hat