Flügelchend mit dem Goldbrief
aus feinstem Faserwerk,
packte das Heupferdchen seinen Wanst korbvoll
mit Ufernem: Schilfen und Gräsern
Pinj, pinj, pinj! pardauzte die Roßpappel.
O schwanings.
O aufschein!
(Deutsch von Paul Celan)
Grasshopper
Glitter-letter wing-winker
gossamer grasshopper
packs his belly-basket
with credo-meadow grass.
Zin! Zin! Zin! sings
the raucous racket-bird!
Swan-white wonder!
Brighter, brighter, bright!
(Translated by Paul Schmidt)
Кузнечик
Крылышкуя золотописьмом
Тончайших жил,
Кузнечик в кузов пуза уложил
Прибрежных много трав и вер.
"Пинь, пинь, пинь!" – тарарахнул зинзивер.
О, лебедиво!
О, озари!
1908 – 1909
Transkribiert:
(z = stimmhaftes s wie Sonne, sh = stimmhaftes sch wie Journal, ch wie in ach)
Kuznetschik
Krylyschkuja zolotopismom
Tontschajschich shil,
Kuznetschik w kuzow puza uloshil
Pribreshnych mnogo traw i wer.
"Pinj, pinj, pinj!" – tarachnul zinziwer.
O, lebediwo!
O, ozari!
Am 28. Juni 1922 starb der russische Dichter Welimir Chlebnikow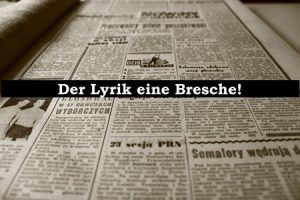 Weiterführend → Poesie zählt für KUNO weiterhin zu den identitäts- und identifikationstiftenden Elementen einer Kultur, dies bezeugte auch der Versuch einer poetologischen Positionsbestimmung.