Indians scattered on dawn's highway, bleeding
Ghosts crowd the young child's fragile, eggshell mind
Der Cimetière du Père-Lachaise ist der größte Friedhof von Paris und zugleich die erste als Parkfriedhof angelegte Begräbnisstelle der Welt. Er ist nach Pater François d'Aix de Lachaise benannt, auf dessen Gärten der Friedhof errichtet wurde. Mit einer Fläche von 44 Hektar ist er der größte Pariser Friedhof. In 69.000 Grabstätten wurden bisher etwa eine Million Verstorbene beigesetzt. Mit rund 3,5 Millionen Besuchern im Jahr ist Père Lachaise eine der meistbesuchten Stätten in Paris. Wieviele davon das Grab des am 3. Juli 1971 in Paris verstorbenen Jim Morrison besuchen ist nicht bekannt.
***
An American Prayer, Lyrik von Jim Morrison, erschienen 1970 im Selbstverlag (500 Exemplare).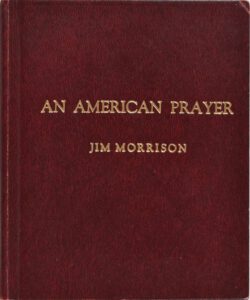 James Douglas Morrison (8 December 1943 – 3 July 1971) war ein Songwriter, Musiker, Poet und Mitglied von The Doors.
Weiterführend → Poesie zählt für KUNO weiterhin zu den identitäts- und identifikationstiftenden Elementen einer Kultur, dies bezeugte auch der Versuch einer poetologischen Positionsbestimmung.