Kopieren fand lange Zeit nicht durch einen einfachen Knopfdruck statt: Eine Kopie, die Wiedergabe von etwas schon Vorhandenem, lässt sich auf sehr unterschiedliche Arten erzeugen. Es gab und gibt nicht nur eine Kopiertechnik, sondern eine Vielzahl davon. Um diese verschiedenartigen Kopierverfahren erneut ins Bewußtsein zu holen, dort zu platzieren und zu verankern, auch im Bezug auf die Entwicklung der Fotokopie, setzt sich die neue Ausstellungsreihe «Kind of Copy» mit dem weit gefassten Begriff des Kopierens auseinander.

In der Ausstellung «Kind of Copy – Kohlepapier» widmen wir uns dem Kohlepapier, auch bekannt als Durchschreibepapier, Durchschlagpapier, Vervielfältigungs-Papier oder auch selbstkopierendes Papier. Noch heute gebräuchlich zum Erstellen einer Kopie von etwas handschriftlich Geschriebenen oder von ausgefüllten Formularen, wie z.B. Quittungen.

Im Rahmen der Ausstellung werden wir uns mit einigen unterschiedlichen Handhabungen und Ansätzen dem Kohlepapier annähern und darüber hinaus das Material selbst, dessen Geschichte und seine Herstellung genauer betrachten.

***
Kind of Copy – Kohlepapier – Museum für Fotokopie / M.F.F. 20. Mai – 7. Juli 2019
Vernissage: 19. Mai 2019 ab 16 Uhr im Rahmen des Internationalen Museumstags / Öffnungszeiten: Donnerstags 16 – 19 Uhr und weitere Termine nach Absprache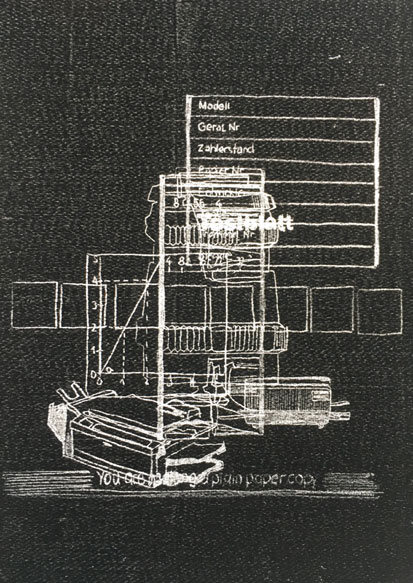 Aktion: 6. Juli 2019, 11 – 18 Uhr Tattoo-Brunch mit shownomarcie

Museum für Fotokopie / Makroscope Friedrich-Ebert-Str. 48, 45468 Mülheim an der Ruhr
weitere Infos: www.makroscope.eu
Weiterführend →
Blitzkopie: Auszüge aus einem Interview mit Dr. Edith Weyde 1988
Das kleine Helferlein – Hörfilm auf MetaPhon
Xerografie: Erstes Remake des Astoria-Experiments zum 70jährigen Xerografie-Jubiläum 2008