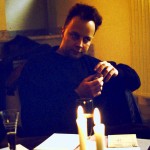 Dem im Rheinland lebenden VerDichter A.J. Weigoni kommt das Verdienst zu, die Literatur aus der 400jährigen babylonischen Gefangenschaft im Buch befreit zu haben. Die mit Frank Michaelis produzierte CD LiteraturClips erschien lange bevor man diese Art von Literatur als "Hörbuch" vermarktete. Das rief 1992 noch Pressestimmen hervor wie: "Literatur, die sich nicht mehr auf die Seiten eines Buches bannen läßt." (ORF)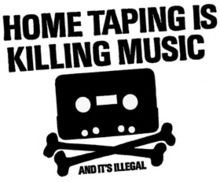 Home Taping Is Killing Music war eine Kampagne der British Phonographic Industry. Sie wurde laut Wiki 1980 ins Leben gerufen. Der Slogan trug den Untertitel And it's illegal und zeigte im Logo eine Audiokassette mit zwei gekreuzten Knochen, im Stil einer Piratenflagge. Die Cassette als Analogie (sic!) auf mp3.
Tonmeister Tom Täger hat das Tape "the last pop-songs" (vom DAT) digital remastered. MetaPhon präsentiert in der Reihe "Revisited" einen Rückblick auf "The Best Of Jugendsünden":
Vera leitet sich vom Wortstamm Wahrheit ab. VERA STRANGE TAPES sind ästhetische Erwiderungen zu Rap, Reggae und Karneval. Unter "the last pop-songs" formierten sich 1989 Kurzhörspiele die sich tanzen las­sen zu einem luziden Klanggewitter. A. J. Weigoni und Frank Michaelis betreiben, assistiert von der Schauspielerin Marion Haberstroh mit der Literatur eine multimediale Hörspielerei zwischen Performance, Theater und Lesung, und setzen Elemente der Minimalmusik ebenso ein, wie die des Jazz.
***
Die Aufnahme ist in HiFi-Stereo-Qualität erhältlich über:  info@tonstudio-an-der-ruhr.de