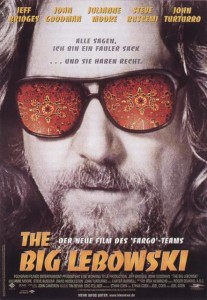 Fünfzehn Jahre nach dem Start des Film schreibt Ashley Fetter im Atlantic über den fortgesetzten Kult um "The Big Lebowski" und zitiert aus einem Esssay Andrew Rabins, der den Film auf religiöse Motive untersuchte:
Lebowski repeatedly frames the Dude as a contemporary Jesus. Beyond the obvious similarity of hairstyle, the Dude also twice assumes a cruciform posture and is described sacrificially by the Stranger as 'takin' her easy for all us sinners.' The Dude is not the film's only Christ figure-Donny also is associated with Jesus, as is "the Jesus" himself, who provides an obvious anti-type.
Zur Erinnerung eine Reihe bedeutender Aussprüche aus "The Big Lebowski".